1 in 4 mobile handsets are now manufactured in India at CKD level.
Reliance Retail's JioPhone led the overall shipments contributing 27% across Featurephones, Fusion phones and Smartphones.
Smartphones above Rs 4,000 being shipped with 4G connectivity. LTE handsets grew 104% growth compared to last year same period.
New Delhi/Gurugram, 2 August 2018:  According to CMR's India Mobile Handset Market Review Report for 2Q 2018 released today, in a historic first for mobile handset brands in India market, mobile handset shipments are set to cross 300 Mn milestone by end-2018. The new CMR estimates also point out that smartphones will outstrip featurephones and fusion phones collectively by 2020.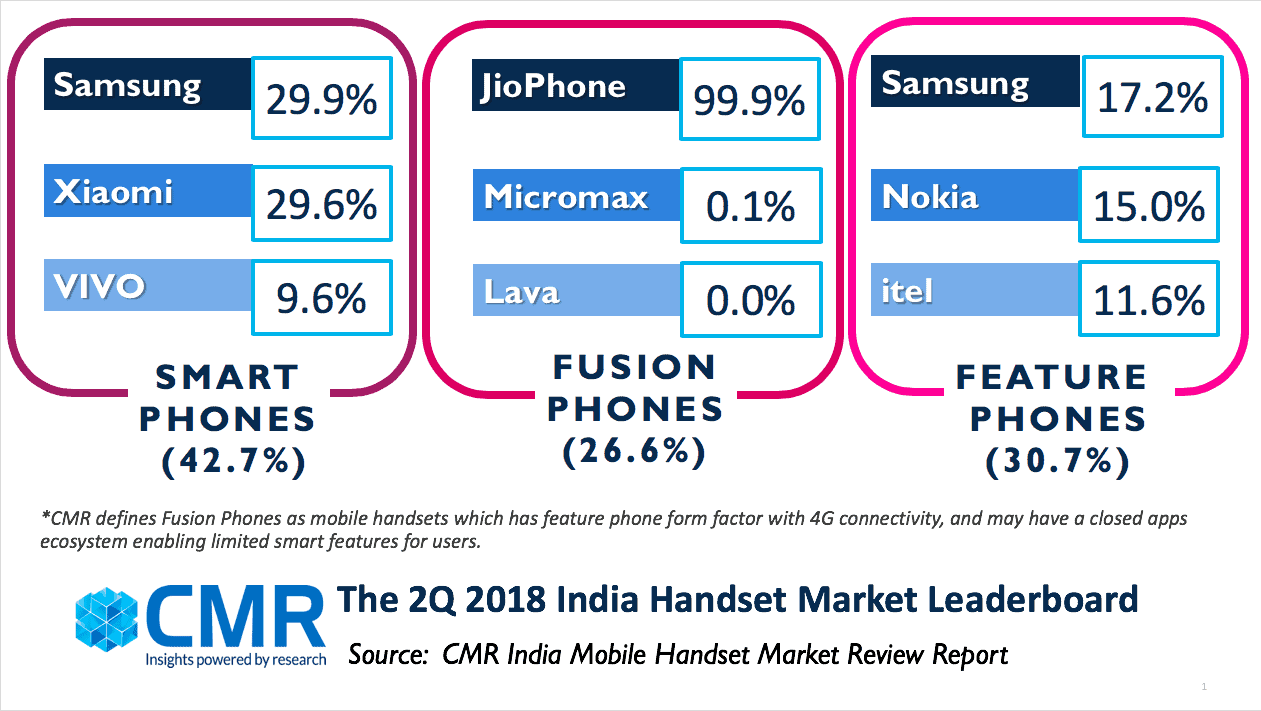 Commenting on the major trends witnessed, Prabhu Ram, Head – Industry Intelligence Group (IIG), CMR said, "In 2Q 2018, with the ushering in of the CKD level manufacturing, there are two broad trends underlining short-term turbulence. These include, the impact of Jio's disruptive Monsoon offer leading to erratic demand projection estimations for all major handset brands, and secondly, the capabilities of smaller players to switch to CKD manufacturing and maintain production levels with their own SMT lines."
"In 2Q 2018, Samsung's continued brand loyalty in India paid dividends with its new refreshed portfolio enabling it to trump Xiaomi in the cut-throat smartphone competition. Whether it be the new rich features, camera or screen innovations, they all helped it in making dents. In line with predictions made by CMR earlier, smartphone brands, HTC exited from the India Market in 2Q 2018. On the other hand, it is remarkable to note that ASUS scripted a positive turnaround, on the back of a revised market strategy and astute stewardship," Prabhu stated.
As per Narinder Kumar, Lead Analyst, IIG-CMR, "2Q 2018 saw the arrival of Fusion phones as a distinct category. Though it is primarily driven by JioPhone, Indian brands like Micromax and Lava are also shipping in smaller quantities."
"Going forward, it is expected that other brands shall also explore Fusion phones and excite the consumers with enriched smart capabilities within the feature phone form factor.  However, the success would like in how it penetrates into the open market, albeit telecom operators supporting the initiative, Narinder concluded."
CMR 2Q 2018 Highlights
Smartphones grew 17% on annual comparison driven by strong performance registered by brands including Honor, Realme and Vivo. The other factor was that 2Q 2017, had relatively done below the quarterly average as the segment was taken aback by demonetization.
28% decline was registered in feature phone category YoY, which is being taken by Fusion phones.
Reliance Retail led the overall shipments with 27% market share across segments during 2Q 2018. This was followed by Samsung.
****
Notes to Editor:
The Fusion Phones Segment is a new classification introduced by CMR to define mobile handsets that have a feature phone form factor with 4G connectivity, and may have a closed apps ecosystem enabling limited smart features for users.
About CMR India Mobile Handset Review Report
The CMR Mobile Handset Review Report is based on CMR's research methodology and proprietary tools, covering >100 unique datasets, and delivered to CMR clientele. The report is available in monthly, quarterly and half-yearly formats. The report deliverables include top-line findings and summary snapshot for India market in powerpoint, and in a user-friendly excel format.For more information on CMR's Mobile Handset Report, please contact Prabhu Ram at +91 9899440380 or pram@cmrindia.com
About CMR
CMR offers industry intelligence, consulting and marketing services, including but not limited to market tracking, market sizing, stakeholder satisfaction, analytics and opportunity assessment studies.
Its bouquet of consulting services includes incubation advisory, go-to-market services, market mapping and scenario assessment services. CMR is servicing domestic as well as international clientele in India and few global destinations. The clientele serviced represents SMBs, Large Enterprises, Associations and Government. CMR's core value proposition encompasses a rich portfolio of syndicated reports and custom research capabilities across multiple industries, markets and geographies.
A part of CyberMedia, South Asia's largest specialty media and media services group, CyberMedia Research (CMR) has been a front-runner in market research, consulting and advisory services since 1986. CMR is an institutional member of Market Research Society of India (MRSI).