4G Smartphone shipments grew 14% YoY
Xiaomi is No.1 in smartphone shipments, with POCO registering a whopping 465% growth
OnePlus and itel smartphone shipments recorded triple digit YoY growth
 New Delhi/Gurugram, 10 May 2021:  According to CMR's India Mobile Handset Market Review Report for Q1 2021 released today, total smartphone shipments in India in the three months ending March grew 23% YoY, with strong demand for 4G smartphones. In Q1 2021, 4G smartphone shipments grew 14% YoY.
According to Shipra Sinha, Analyst-Industry Intelligence Group, CMR, "Q1 2021 recorded the highest ever shipments in three years. It also marked an extended good run for the smartphone market, on the back of continued pent-up consumer demand driven by continued everything-from-home context. Xiaomi remained on top in smartphone shipments, and POCO's remarkable growth bodes well for Xiaomi. It is facing tough competition from the likes of Samsung and vivo. During Q1, OPPO continued to build on its growth momentum, with new 5G-capable offerings."
Xiaomi (28%), Samsung (18%) and Vivo (16%) captured the top three spots in the smartphone leaderboard in Q1 2021. Oppo shipments grew by 16% YoY. OnePlus led the 5G smartphone segment with 33% market share followed by realme at 14%. The 5G smartphone shipments accounted for 7% of the overall smartphone shipments in Q1 2021.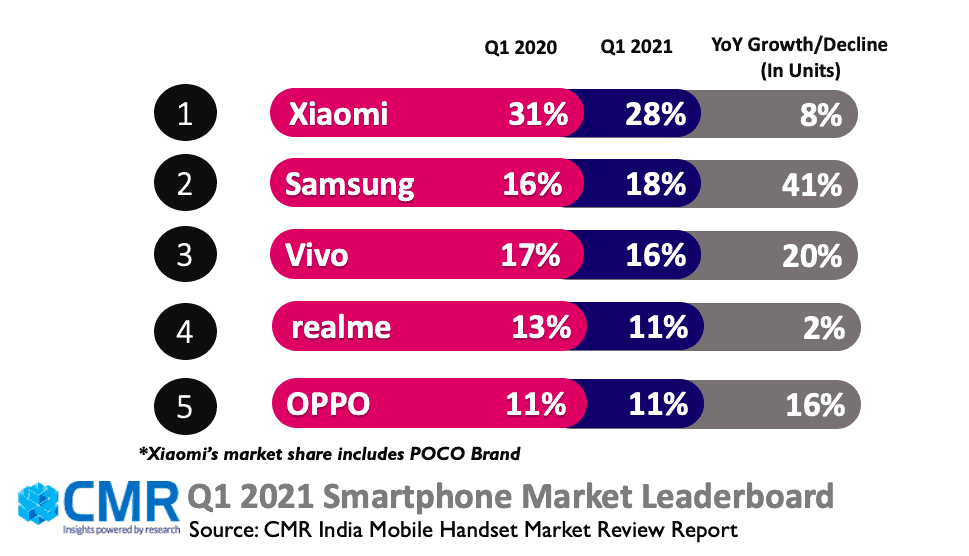 The feature phone segment increased 21% YoY primarily driven by Jio's new 4G Feature phone. The 2G feature phone segment grew 9% YoY, with itel (20%), Samsung (20%) and Lava (19%) capturing the top three spots.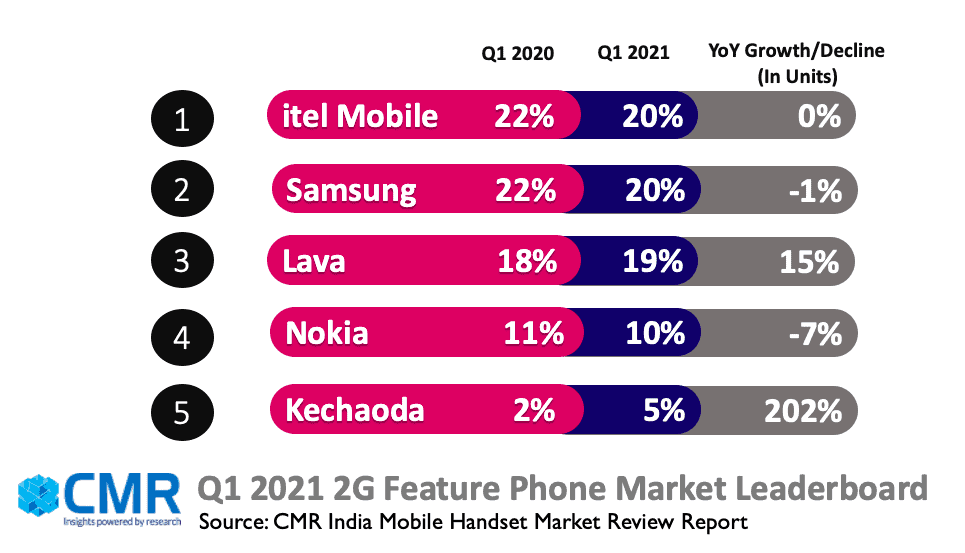 Q1 2021: Key Smartphone market Highlights
Xiaomi captured the top spot with 8% YoY growth in shipments. Redmi 9A and 9 Power together accounted for 38% of its overall shipments. Xiaomi refreshed its 5G lineup with its most affordable 5G handset Mi10i and introduced 10th generation Redmi Note series. POCO had a whopping 467% YoY growth in Q1 growing from a small base. The Poco C3 accounted for 28% of its shipments. POCO launched M3 and X3 pro in Value for Money segment.
Samsung grew 41% YoY, and with an 18% market share, was placed second in the smartphone market.  It launched atleast 12 new models with the Samsung A12, A32, A52 and A72, accounting for close to 25% of its shipments.  In the featurephone segment, Samsung stood at second spot with 20% market share.
Vivo garnered 16% market share, with its shipments growing by 20% YoY. It launched 7 models including the vivo X60 5G series in the premium and super premium smartphone segment. The vivo Y51A, Y20a and Y12s constituted almost half of its sales.
realme shipments recorded negligible 1.5% YoY growth, mostly driven by the realme C12, Narzo 30A and Narzo 20 series contributing 26% of its share. realme continued to drive 5G smartphone accessibility and affordability by introducing the Narzo 30 Pro 5G in the sub 20,000 segment.
OPPO grew 16% YoY almost dethroned realme with 11 % market share each. In Q1 2021, it debuted its OPPO Reno 5G model, and introduced the OPPO F19 Pro Plus and F19 Pro. OPPO A15 series constituted more than a third of its shipments.
OnePlus shipments recorded a significant growth of >400% YoY, almost touching a million shipments. OnePlus debuted the new OnePlus 9 Series during the quarter. OnePlus Nord continued its good run and accounted for 37% of its shipments.
Apple stood at the 8th position in the top ten leaderboard in Q1 2021. Apple iPhone 11 and iPhone 12 models together accounted for 71% of its overall shipments.
Transsion Group brands (Itel, Infinix and Tecno) overall shipments grew 12% YoY, while its smartphone shipments grew 44% YoY. itel recorded 152% YoY growth, Tecno grew 70% while Infinix declined 36%. itel continued to lead in the overall featurephone segment with 20% market share in Q1 2021.
In the 2G feature phone segment, while Nokia and Micromax declined by 7% each, Lava shipments increased by 15% YoY.
Future Outlook
As per CMR estimates, driven by lockdown restrictions across Indian states, the smartphone market will face a significant growth challenge in Q2 2021 and beyond.
"Owing to the second COVID wave and associated state-wide lockdowns, we see a significant dip of 15-20% QoQ in smartphone shipments in Q2 2021. Coupled with that, supply chain disruptions and component shortages will continue to test smartphone brands. That said, with remote work and e-learning continuing to gain permanence, it potentially bodes well for smartphone industry prospects in H2 2021. While current market conditions remain turbulent, we remain cautiously optimistic of the smartphone industry prospects going forward," added Anand Priya Singh, Analyst- Industry Intelligence Group, CMR.
– ENDS –
About CyberMedia Research and Services Ltd
CMR offers industry intelligence, consulting and marketing services, including but not limited to market tracking, market sizing, stakeholder satisfaction, analytics and opportunity assessment studies.
A part of CyberMedia, South Asia's largest specialty media and media services group, CyberMedia Research (CMR) has been a front-runner in market research, consulting and advisory services since 1986. CMR is an institutional member of Market Research Society of India (MRSI).
For queries, please contact releases@cmrindia.com