---
As vehicles are becoming more software-defined, the Indian automotive market is indeed experiencing significant advancements in the adoption of Advanced Driving Assistance System (ADAS) technology. ADAS technology includes features such as adaptive cruise control, lane-keeping assistance, automatic emergency braking, and other advanced safety and driver-assistance functionalities. These technologies are becoming increasingly prevalent in modern vehicles, enhancing road safety and driving experiences.
Over the past two decades, Original Equipment Manufacturers (OEMs) have prioritized safety features, leading to the standardization of various equipment for both active and passive safety. As safety gains increasing importance in consumer choices, car buyers in India now prioritize brands based on safety features and Global NCAP ratings. With the government planning to introduce Bharat NCAP testing and ratings, the push for safer vehicles in the mass market is set to accelerate.
Segmentation and Safety Upgrades:
In the Indian car market, three vehicles segments stand out as the most demanded by consumers: the Affordable segment (0-10L), the Aspirational segment (10.1-25L), and the Premium segment (25.1-50L).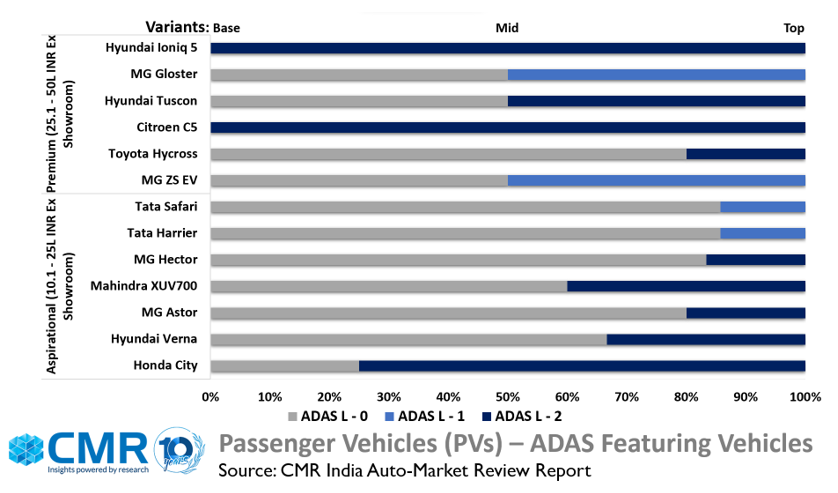 Each segment witnesses distinct safety upgrades, with ADAS technology emerging as a popular choice for consumers looking for advanced safety features. Brands like MG Motors and Mahindra have been at the forefront of adopting ADAS Level 2 features, offering smart functionalities that cater to the growing demand for convenience and safety.
Consumer Adoption and Preferences:
Consumer adoption of ADAS features is on the rise, with more than 40% of respondents in a recent CyberMedia Research (CMR) survey having experienced driving a vehicle equipped with advanced safety features and expressing a willingness to pay for these features in their own vehicles.
Adaptive Cruise Control tops the list of familiar ADAS features (>67%), followed by Collision Avoidance System (>60%), and Traffic Jam Assist (>53%).
Among the most appealing features, Adaptive Cruise Control takes the lead (>47%), followed by Self Parking and Lane Keeping Assist.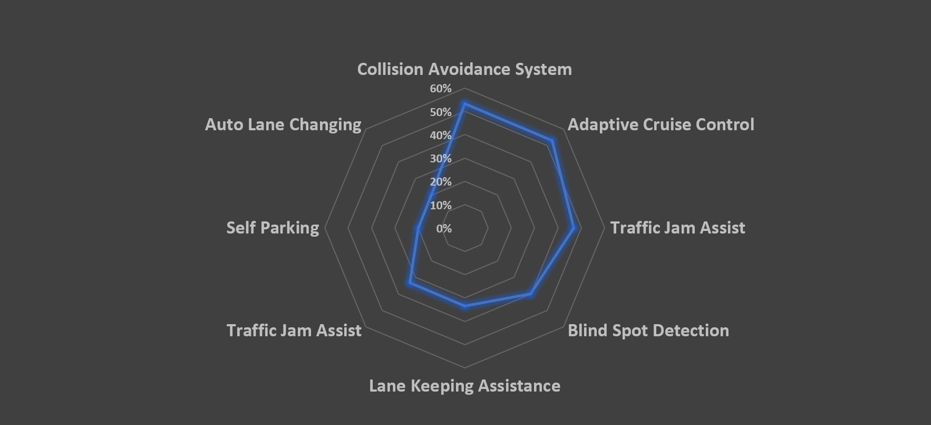 Nearly 50% of consumers believe that Collision Avoidance System, Adaptive Cruise Control, and Traffic Jam Assist feature will significantly impact and help drivers navigate Indian traffic conditions.
OEMs' Shift Towards ACES Mobility: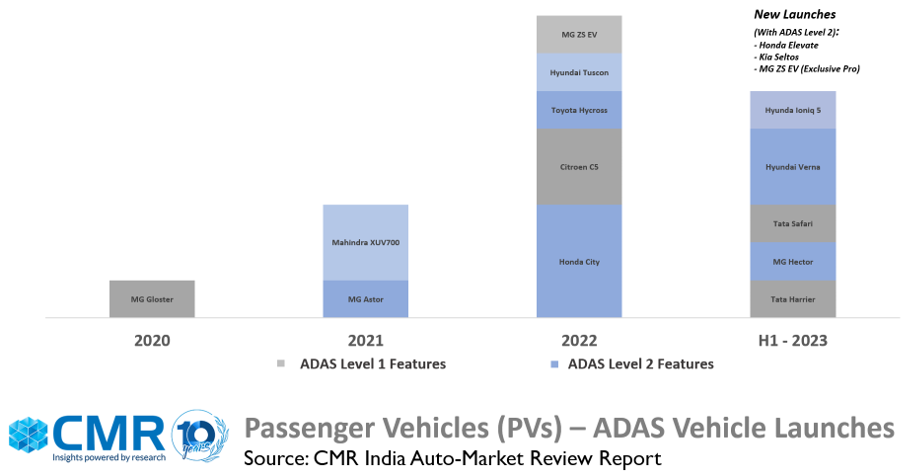 Responding to these consumer needs and technology advancements, OEMs are bringing vehicles equipped with ADAS features to the India market. In H1 2023, the number of car launches with ADAS features has already touched the count from the previous year. New players such as Tata Motors, Hyundai Motor India, Kia India, Toyota Kirloskar Motor, and Honda Cars India, along with established players like MG Motors, have expanded their ADAS-equipped vehicle portfolio.
Segment-wise Adoption: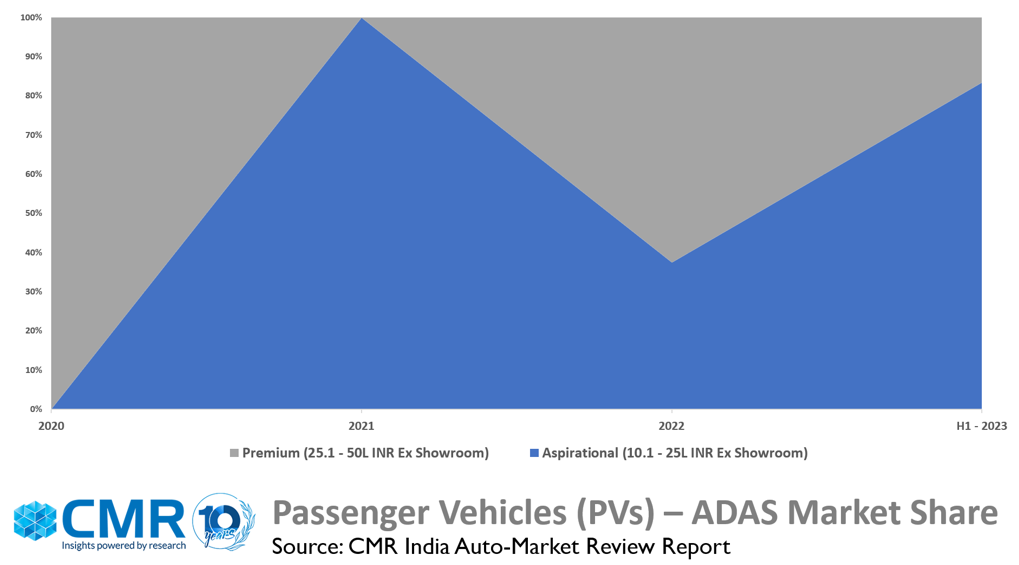 The Aspirational Segment has seen the most significant increase in vehicles with ADAS features, soaring from 38% to 83% in H1 CY2023. However, the affordable segment is yet to fully embrace ADAS technology. One noteworthy exception is the Honda City 5th Generation, released in May 2022, which is the most affordable ADAS-equipped car within the price bracket.
ADAS Levels and Popular Features:
The transition to ADAS Level 2 is well underway, with 20% of ADAS vehicles featuring Level 1 features and 80% featuring Level 2 in the market segments.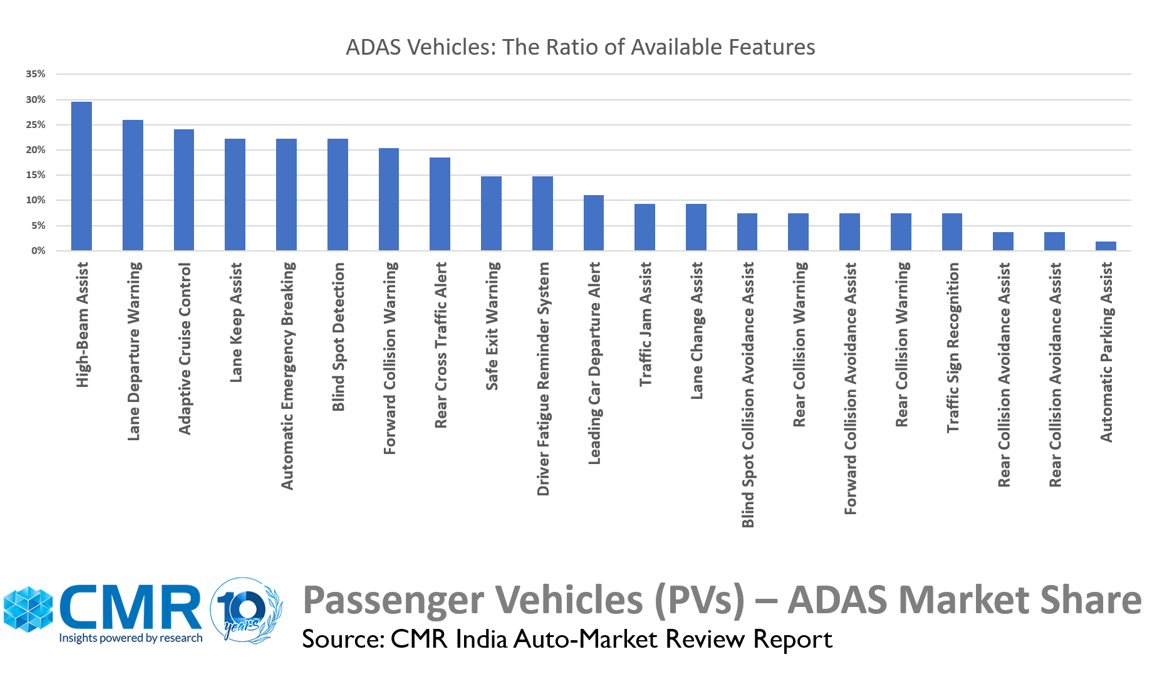 The most widely available ADAS features include High Beam Assist, Lane Departure Warning, and Adaptive Cruise Control, which have gained popularity among Indian consumers.
The Future Outlook:
Looking ahead, ADAS technology is set to expand beyond the car segment and into 3-wheelers and commercial vehicles. Industry players are optimistic about introducing ADAS at Level 3 for commercial vehicles, enhancing safety in diverse driving conditions.
In the Passenger Vehicle segment, the market share of ADAS-equipped vehicles is projected to exceed 50% by the end of 2028, with the Affordable segment contributing significantly to this growth. As the technology matures with localization, it is anticipated that one of the ADAS levels should standardize, just like Combi-brakes, Antilock Braking Systems, Electronic Brake Distribution, and Dual Airbags have become standard safety features in present times.