---
India, with its diverse terrains, is interconnected by thrilling roads that traverse the nation, taking riders on unforgettable journeys from the southern states of Kerala, Karnataka, Goa, Gujarat, and West Bengal to the northern regions of Delhi, Himachal, and Jammu & Kashmir. The richness of India's culture, cuisine, and weather further enhances its allure.
Why did I brief? This was to emphasize the incredible diversity of our country, which serves as a key driving force behind two of the most prominent trends presently shaping the 2-wheeler segment. These trends aim to inspire and empower enthusiastic riders of specific segments to explore our nation using vehicles equipped with the most advanced technologies.
The post-Covid period has highlighted the transformative potential of the 2-wheeler segment, as evidenced by strong sales volume from January to April. Consumers, confident in their choices, seek vehicles that meet their individual requirements. The market is currently favorable for eco-friendly options, especially high-speed electric 2-wheelers (E2Ws), which have experienced a significant shift in consumer preference. The share of high-speed E2Ws among Indian riders has risen from >70% to around 90%, surpassing the declining popularity of low-speed E2Ws by over 30% year-on-year. Moreover, E2Ws have secured a market share of over 5% in the overall 2-wheeler segment, highlighting the growing demand for environmentally conscious alternatives.
Despite the overall growth and demand in the 2-wheeler industry, the motorcycle segment has experienced a decline in market share. This can be attributed to the emergence of new trends, notably electric vehicles (EVs), primarily available in the scooter segment. This shift has significantly influenced consumer purchasing behavior.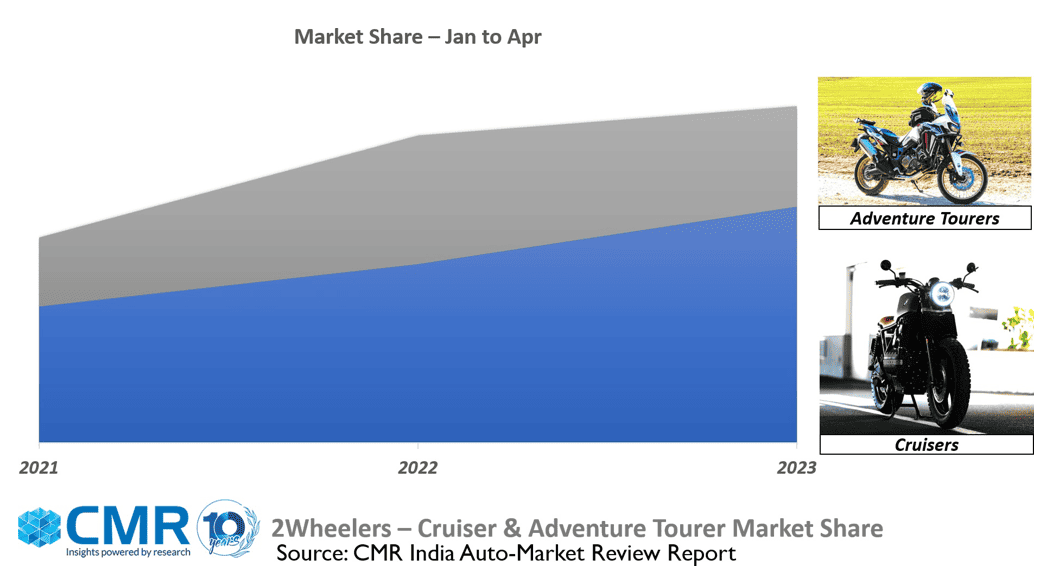 First Trend: Surging Demand for Cruiser and Adventure-Tourer Motorcycle Segments
The cruiser and adventure-tourer sub-segments within the motorcycle category have experienced consistent growth. From January to April 2023, the domestic volumes of cruisers increased their market share to over 5%, while adventure-tourers captured around 1% of the overall 2-wheeler market
in India. This translates to a compound annual growth rate (CAGR) of approximately 1% for cruisers and over 11% for adventure-tourers.
In the adventure-tourer segment, engine sizes between 151 to 200cc and 351 to 500cc are in high demand, with an 11% CAGR. Meanwhile, in the cruiser segment, engines ranging from 251 to 350cc dominate over 90% of the market share. However, there is a growing demand for engines between 501cc to 800cc, which has seen a CAGR of over 38%.
Enthusiast riders are driven by the desire to explore our diverse country, covering tourist destinations and riding on various road types, including smooth urban highways and off-road hilly terrains. These enthusiasts prefer cruiser or adventure-tourer bikes that can be customized with accessories to meet their specific needs. One significant customization, available as a standard fitment from select Original Equipment Manufacturers, is the integration of connected vehicle features.
Second Trend: Technology Integration Enhances Value in Segments
This emerging technology, known as the Telematics System, enables connected vehicle features. It utilizes an in-built sim card to provide real-time data through cloud services. This information is displayed on a Multi-Information TFT screen, offering riders a wealth of information while they ride.
The connected vehicles technology trend in the 2-wheeler segment experienced over 20% year-on- year growth in CY2022. This advanced and user-friendly technology has started disrupting the segment by offering a range of features.
From January to April 2023, the Cruiser and Adventure-Tourer segments accounted for approximately 40% of the connected technology market share in the Indian 2-wheeler market. This technology has also been adopted in the Commuter and Sports segments, encompassing both scooters and motorcycles. Two-wheeler electric vehicles (EVs) are playing a significant role in integrating connected features through Smart Touchscreen Clusters.
This highly sought-after technology adds substantial value to riders who seek convenience and guidance during their journeys. The smart unit enables riders to stay connected to their vehicles, offering features such as navigation assistance in various conditions, call and SMS alerts, safety features like topple alerts, live tracking for vehicle security, tow-away alerts, geo-fence alerts, as well as comprehensive trip analysis, driving scores, and more.
Summary:
At CMR, we believe that once consumers experience the value of connected features in overcoming challenges related to city traffic and intercity riding, connected 2-wheeler adoption will accelerate rapidly. By 2025, the share of connected technology features in 2-wheelers is expected to surpass 50%.
Furthermore, the passion and enthusiasm of Cruiser and Adventure-tourer riders will continue to hold a significant market share in India. Looking ahead, these segments will transition towards greener and more sustainable energy alternatives for their vehicles.