---
The Covid-19 pandemic brought about a significant shift in consumer behaviour, necessitating widespread adaptation. Safety and hygiene practices swiftly became the foremost concern for individuals, leading to the development of new habits and protocols that continue to be followed diligently.
The increased focus on safety and hygiene during the pandemic has propelled digitalization to new heights, offering consumers unparalleled convenience and comfort through online shopping. The e-commerce market, particularly for groceries, perishable items, and medicines, experienced explosive growth. The intensified competition and soaring demand have given rise to numerous established companies and startups, delivering a wide range of products right to consumers' doorsteps within minutes.
Zen Mobility has positioned itself as a provider of cutting-edge smart mobility solutions for India's 3Wheelers and Light Commercial Vehicle segment in response to the changing market dynamics. With a vision of developing state-of-the-art solutions, Zen Mobility recently unveiled its inaugural product, the "Micro Pod." This technologically advanced and environmentally sustainable vehicle offers exceptional ergonomics and efficiency, showcasing the company's commitment to innovation.
Zen Mobility's Micro-Pod has been specifically developed to enter India's 3Wheeler market, with a strong focus on the high-demand cargo sub-segment. This versatile vehicle offers multiple solutions in the logistics space, providing added value to last-mile delivery businesses, delivery riders, the environment, and end consumers.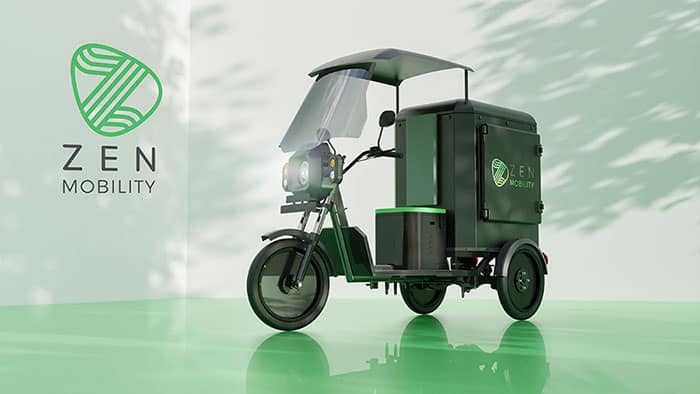 Zen Micro-Pod
Setting a new benchmark: Zen Mobility's Micro-Pod aims to establish itself in a unique space that bridges the gap between 2-wheelers and traditional 3-wheelers. With its compact dimensions, cargo box design, and affordable price, the Micro-Pod addresses the challenges faced by both 2-wheeler riders burdened with heavy bags and 3-wheelers struggling to navigate narrow spaces within the city.
Easy to build and customize: The Micro-Pod is meticulously designed and manufactured in-house to precisely meet the specifications of the Indian market, with production based in Gurgaon (Manesar), Haryana. Remarkably, it can be fully assembled within a mere 60 minutes.
As the demand continues to surge and production processes become automated, Zen Mobility foresees the capability to produce up to a thousand vehicles per day.
Moreover, the Micro-Pod offers seamless customization options, catering to diverse needs such as e-commerce, cold chain logistics, grocery delivery, and beyond.
Electrically Powered: With a steadfast commitment to minimizing carbon footprint in last-mile deliveries, the Micro-Pod operates solely on electric power, contributing to localized sustainability. Its robust motor empowers the vehicle to effortlessly haul a payload of up to 150 kilograms, while boasting an impressive range that exceeds 120 kilometers on a single charge.
Smartly Featured: The Micro-Pod is equipped with state-of-the-art technology, including an integrated telematics system and a TFT display, delivering real-time updates to riders regarding the vehicle's status, battery state of charge level, and performance.
The accompanying mobile app further enhances the user experience by enabling route planning, location tracking, and monitoring of the rider's behaviour from anywhere.
Cost-effective delivery solution: With its superior load-carrying capacity in comparison to 2-wheelers, the Micro-Pod emerges as a highly cost-effective delivery solution, facilitating greater efficiency in last-mile deliveries on individual routes. By accommodating larger payloads, this versatile vehicle optimizes the delivery process, resulting in enhanced productivity and reduced operational costs for businesses.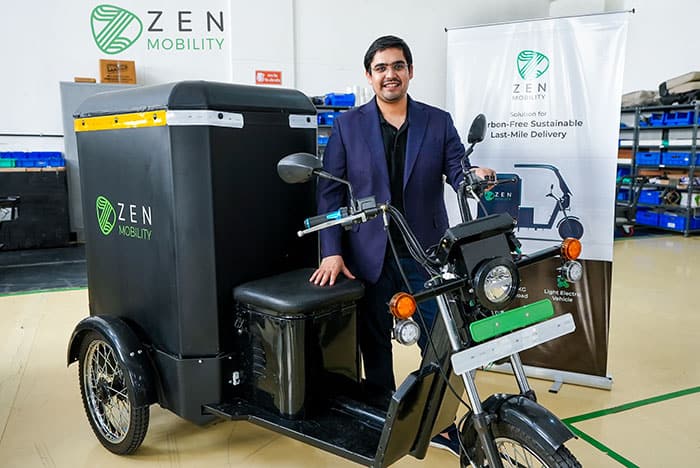 With a strategic focus on the B2B market, Zen Mobility has already partnered with top logistics enterprises and received pre-orders for 10,000 Micro-Pods.
In addition to the Micro-Pod, Zen Mobility has announced the development of a multi-purpose 4-wheeler LEV known as the Zen Maxi Pod. This vehicle, intended for cargo and mid-to-large-size goods delivery, features a flatbed skateboard platform that offers superior cargo space compared to existing commercial vehicles deployed in the Last Mile Delivery segment. The Zen Maxi Pod is expected to deliver improved operational efficiencies.Top of Form