On 13th Dec'22, Mercedes Benz Research and Development India (MBRDI) gave industry the opportunity to witness the launch of its aerodynamic Vision EQXX model at MBRDI's tech center, Bengaluru.
The MBRDI is the largest R&D center for Mercedes-Benz Group AG outside Germany and works as a captive unit to research, IT, and product development activities, ranging CAD, CAE, and IT programming that has been complementing all the group's business units, for more than two decades, since 1996 thus showcasing India's budding professional's aptitude towards excellence at every opportunity.
The MBRDI also showcased the Vision EQXX, expressing how the team played a big role in the development of this vision, through the involvement of the Indian ecosystem of >7000 talented MBRDI engineers – professional IT, mechanical, and simulation experts, who have collaborated with teams in US and Germany to contribute to design, digital-software, and safety technologies and to bring continuous innovations for the vision EQXX which got launched earlier this year in Germany and last week in India.
Manu Saale, Managing Director, and CEO, of Mercedes-Benz Research and Development, India highlighted the three major safety elements that can strategically improve road safety – Human Behavior Change towards safety, Vehicle Safety Technology and Advancements, and Road Infrastructure development.
Prof. Dr. Paul Dick, Head of Vehicle Safety, Mercedes-Benz AG also highlighted the Mercedes Benz's vision of developing vehicle safety technologies with emphasis on Active and Passive safety.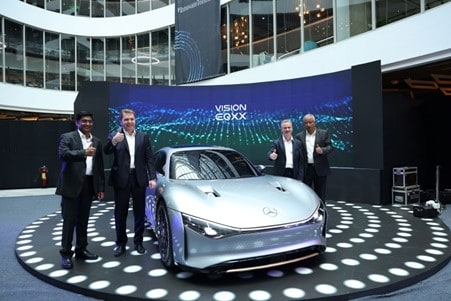 The Vision EQXX:
Mercedes-Benz has set an ambitious target to go all-electric by 2030.
The Vision EQXX goes with an aerodynamic vehicle design allowing coefficient of drag friction by 0.17, measured in the Daimler aero-acoustic wind tunnel at a wind speed of 140kmph. The EQXX also features an extremely small and lightweight thermal management system, solar-powered infotainment, light, enabling 25kms of more range.
The technology has enabled the EQXX to record a 1,000 km+ journey on a single battery charge, in real-life traffic scenarios in diversified weather conditions, which turns to be the most efficient Mercedes-Benz.
EQS – Body in White (BiW):
A 'Body in White' (BiW) passenger car exhibit at MBRDI highlighted some of the core elements of a car structure with Intelligent Drive and Protection:
Assist while driving: This is where the Active Safety – Mercedes-Benz Driver Assist Technology functions through various sensors like UV sensors, high-def cameras, radars, and lidar across the vehicle, presented with yellow marks allowing the driver to drive safer by avoiding accidents in various driving conditions through series of help assists and warnings. Today India has a Level – 2 ADAS system and soon we should be witnessing ADAS Level 3 Drive Pilot and Level 4 Autopilot features in Mercedes Benz vehicles.
Prepare for a possible crash: Here Mercedes Benz's PRE-SAFE safety technology helps occupants to prepare, align and brace for the impact, initiated right before, the beginning of the collision is about to take place, providing maximum safety during the collision.
The PRE-SAFE system works through Radar sensors, protecting occupants by closing windows/sunroof, tightening the front seatbelts, adjusting the front head restraints, sound hearing protection, and side airbags deployment.
Protection during a crash: This is where the Passive Safety functions – the vehicle body frames are designed with various composition elements – Cast Aluminum, Extruded Aluminum, Ultra-high-strength steel, and Magnesium to attain maximum strength and flexibility. It depends on the vehicle's body parts and location, which allows the vehicle to absorb collision impacts, work like a cushion, and at the same time, withstand the collision like a shield by protecting occupants with maximum safety.
Also, during a collision, the vehicle also senses and deploys safety features like airbags and belt bags to protect the occupants sitting inside the vehicle and, the pedestrian outside the vehicle through cushioning effect, bringing safety to the next level.
Help after crash: Mercedes Emergency Calling System senses and notifies the rescue services automatically in the shortest of time, post-crash by sending the vehicle's exact location through GPS position.
Conclusion:
As the future of vehicles becomes increasingly software-defined, the presence of global OEM players like MBRDI, as well as mobility startups and policy initiatives by Government of India, India is rapidly gaining momentum and becoming a home-ground for technology innovations focused on enabling vehicle safety, development and production as an automotive hub.
---