External SSD recorded huge 179%sequential growth.
Internal SSD recorded 22% growth when compared to 2Q 2019.
WD continues to dominate the Internal SSD market with 53% share.
Gurugram/New Delhi,November 28, 2019:India External SSD market recorded remarkable growth of 242% when compared to 3Q 2018. 239% growth was also recorded by Internal SSD(SATA & PCIe) market shipments when compared to 3Q 2018,according to CMR's India Hard Drive Market Review for3Q CY2019.
"SSDs high speed,information security,portability,productivity,low latency,multi-tasking,better strength and reliability within a steady framework like features catalyzed its growth.Their potential to enhance PCs,laptops and tablets battery life and OS with cool, quiet and low power operation,makes them a preferred option.With WD topping the list, Kingston,Adata and Crucial recorded significant growth in their shipments in CY2019 in the Internal SSD market. Seagate's Maxtor SSD entry also gave the boost. Attractive offers during the festivals added to this growth," observed Shipra Sinha, Lead Analyst, CyberMedia Research
"With the idea of maximizing benefits from the festival season, major brands external SSD shipments spiked up in 3Q 2019.Drop in market price was one of the crucial growth drivers. Samsung and WD together contributed 84% market share followed by Seagate contributing 8% to the external SSD market,added Shipra Sinha.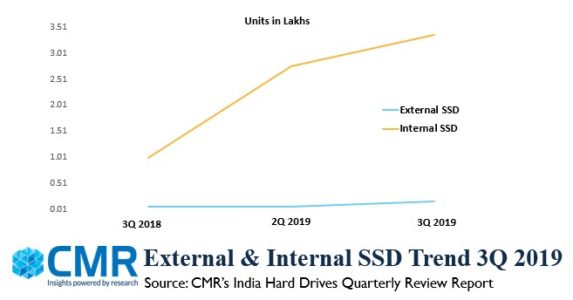 Market Leadership
In the overall India Consumer Internal SSD market, WD dominated the market and contributed 53% market share in terms of units shipped.Kingston was at the second position with 14% market share.However, its shipments witnessed 50% decline when compared to the last quarter.Samsung stood at the third spot with 8% market share.Crucial, Adata and Gigabyte were the next big contributors. With a strong foothold already in the external HDD market,Seagate is planning to make it big in the SSD world as well.
In the external SSD market,Samsung was the top contributor with 43% market share followed by WD and Seagate. Crucial is planning to enter the Indian market soon with its recent launch of 500GB and 1TB external SSD.
Interface and Capacity Trends:
SATA interface was the most popular choice. However, PCIe interface recorded significant 46% sequential growth in terms of unit shipments.240 GB was the top contributor in the overall internal SSD market followed by 120 GB.
On the other hand,500GB was the most favored capacity segment in the external SSD market. 1TB and 2TB recorded enormous 367% and 357% sequential growth respectively on a small base.
Future Trends
According to Shipra, "Demand for laptops, desktop PCs,tablets & phones will increase due to digitization,thus creating a need for a drive with supreme features in the client SSD segment.The latest 3D NAND Flash technology has excelled in narrowing the cost/GB gap between HDDs and SSDs, this will augment the market further.Rise in next generation connected devices requiring higher performance & capacity along with huge IT spending will multiply the SSD market in India. SATA SSD will continue its leadership. PCIe Interface adoption will increase owing to its powerful performance with handling speed of up to 15GB/s"
"We anticipate Internal SSD market to end with 1.1 Mn units by 2019 and External SSD market to end with 0.03 Mn units and record triple digit growth when compared to CY2018. With the new entrants 4Q CY2019 is also expected to grow marginally"added Shipra.